Rear Commodore: Aaron Boesenecker – Having grown up on Lake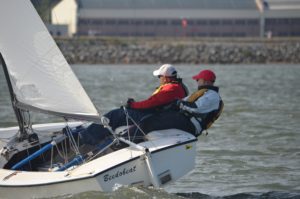 Michigan, Aaron has been sailing since he was young.  He competed in junior sailing during high school in Holland, MI, and went on to sail with and eventually lead the Western Michigan University sailing team.  During his college racing career Aaron also moved out of the world of FJs, 420s, and JY-15s to race in the Mumm 30, 1D35, and Farr 40 classes around the Great Lakes.  Having moved to Washington, DC, in 2002 for graduate school, Aaron stumbled upon PRSA through a serendipitous Sailing World article that detailed the "folks who raced in the jet wash at National Airport."  After just showing up at the marina one evening, he quickly became a regular part of PRSA's Lightning Fleet 50, racing with Rick Welch on Lightning 14553 for a number of years.   He now has his own Lightning, 14592, and is a regular in the PRSA Spring and Fall Series Races as well as on the ILCA traveling circuit.
Treasurer: Jeff Neurauter – Jeff was introduced to sailing at Many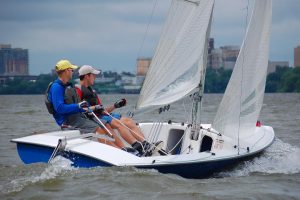 Point Scout Reservation in Minnesota, where he earned the Sailing merit badge and instantly fell in love with sailing.  He bought his first boat – a Sunflower – while in high school and sailed it on the lakes in northern Minnesota as often as he could.  While in law school, he saw a Flying Dutchman on the side of the road with a "For Sale" sign on it.  Jeff took one look and had to have it.  With a larger boat, Jeff had even more fun taking his parents, brothers and friends out sailing.  Then it happened… Jeff noticed a bunch of boats sailing around together and sailed over to see what was going on.  As he sailed by a motorboat with a bunch of flags he was told the other boats were racing.  "Can I race?" Jeff asked.  "Sure, just follow the other boats around," came the response.  So he did and experienced the thrill of racing for the first time.  Jeff moved to Alabama shortly thereafter and started crewing on a Buccaneer 18.  After moving around the country for several years, he was thrilled to find a fleet of Buccaneers at PRSA when he moved to DC in 2004 and has been actively racing ever since.
Secretary: Kyra Tallon – Kyra grew up on the waters of the finger lakes and Lake Ontario in western NY.  Much of that time was spent on water skis, as her family traded their Catalina for a power boat when she was about nine years old.  As an adult, Kyra took a learn to sail class to supplement the few sailing basics she remembered from early childhood.  Shortly after that, a chance encounter with a coworker introduced her to racing and led to several years of crewing on a Buccaneer 18.  Within a few years Kyra had acquired a Buccaneer of her own and has been racing buccaneers regularly at PRSA ever since.  You can find her during the sailing season sailing her Buc, her Laser or just about and anything else she's invited to sail on.
Albacore Fleet Captain: Farley Will – Farley grew up sailing to in North Carolina with is father.  Later he started racing at University of Virginia and became hooked.  Farley has been sailing Lasers and Albacores with PRSA since 2009.  He finds that racing dinghies is much more exciting than keelboats.
Buccaneer Fleet Captain: Nic Bogren – Nic's dad thought it best to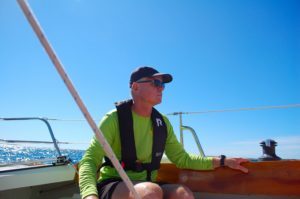 start early, so while Nic was still in the womb, he took him on his first sail. Growing up, Nic sailed mostly on keel boats in California; a Catalina 22 on Folsom Lake, some sort of Vanguard and an Ericson 33 on the San Francisco Bay. As he got older, a Laser and Bic Windsurfer in Davis and on Lake Tahoe. Later, in college, on a Swan 38 in the Bay and up and down the coast of California and most recently, on an Alerion 28 on the west coast of Sweden. In college he had a semi-floater windsurfer, sailing out of the Berkeley Marina, off of Chrissy Field and on the Sacramento River in Rio Vista (no wetsuit needed!). In 2014 Nic biked down to the WSM to check out what was going on, saw a Buccaneer out in the Cove and a few months later had a Bucc of his own. He and his daughter now sail with PRSA and in local Buccaneer regattas.
I-20 Fleet Captain: – 
Laser Fleet Captain: Tom Hutton – 
Lightning Fleet Captain: Lisa-Marie Lane – Lisa-Marie grew up
around boats and being on the water, but started sailing in 1989, when she joined her husband Jim living aboard an Islander Freeport 36' in San Francisco, CA (he bought the boat and then proposed…). Lisa-Marie & Jim have always had a enjoyed sailing and owning small sailboats, but it was not until early 2013, when they moved their Lightning to the WSM and joined PRSA/Fleet 50, that sailing became an active passion in her life.  She jumped into racing, crewing as a regular for Bob Gotthardt until this past May, when she started skippering her own boat "As You Wish…"  She has a passion for learning as much as possible about racing & sailing and more importantly,  a patient supporting husband who supports her sailing addiction!
Multihull Fleet Captain: Ben Arthur – Ben learned to sail when he moved to Southern California for graduate school in 1992.  To date the most fun summer he has ever had was in 1996, when he participated in Long Beach Yacht Club's Catalina Island series on a Chance 37.  He learned then that who you're with is at least as important as what your doing– retired Navy guys *really* know how to party!  Shortly thereafter he got into buoy racing on a Hobie 33 monohull, and then started skippering his own Hobie Cat 18 after inheriting a fixer upper from a departing student.  He has rarely stepped aboard a half cat since experiencing the beauty of the Polynesian solution to boat stability.  After moving to New York in 2002, Ben crewed on a Corsair 28 for a couple seasons, and then bought his own Weta 14 trimaran after the skipper bought two for his kids.  Ben learned a lot in this three-boat one-design fleet, and has sadly gotten way out of practice since moving to Virginia in 2012.
Sustainability Committee Chair: Angela Darrah