Secretary: Kyra Tallon – Kyra grew up on the waters of the finger lakes and Lake Ontario in western NY.  Much of that time was spent on water skis, as her family traded their Catalina for a power boat when she was about nine years old.  As an adult, Kyra took a learn to sail class to supplement the few sailing basics she remembered from early childhood.  Shortly after that, a chance encounter with a coworker introduced her to racing and led to several years of crewing on a Buccaneer 18.  Within a few years Kyra had acquired a Buccaneer of her own and has been racing buccaneers regularly at PRSA ever since.  You can find her during the sailing season sailing her Buc, her Laser or just about and anything else she's invited to sail on.
Albacore Fleet Captain: Eva Hogan –
Buccaneer Fleet Captain: Nic Bogren – Nic's dad thought it best to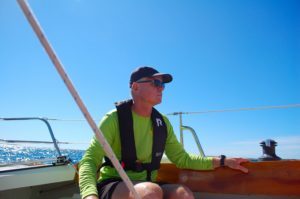 start early, so while Nic was still in the womb, he took him on his first sail. Growing up, Nic sailed mostly on keel boats in California; a Catalina 22 on Folsom Lake, some sort of Vanguard and an Ericson 33 on the San Francisco Bay. As he got older, a Laser and Bic Windsurfer in Davis and on Lake Tahoe. Later, in college, on a Swan 38 in the Bay and up and down the coast of California and most recently, on an Alerion 28 on the west coast of Sweden. In college he had a semi-floater windsurfer, sailing out of the Berkeley Marina, off of Chrissy Field and on the Sacramento River in Rio Vista (no wetsuit needed!). In 2014 Nic biked down to the WSM to check out what was going on, saw a Buccaneer out in the Cove and a few months later had a Bucc of his own. He and his daughter now sail with PRSA and in local Buccaneer regattas.
I-20 Fleet Captain: – Stas Burgiel
Laser Fleet Captain: Brian Joseph 
Lightning Fleet Captain: Jeff Witten
Multihull Fleet Captain: Ben Arthur – Ben learned to sail when he moved to Southern California for graduate school in 1992.  To date the most fun summer he has ever had was in 1996, when he participated in Long Beach Yacht Club's Catalina Island series on a Chance 37.  He learned then that who you're with is at least as important as what your doing– retired Navy guys *really* know how to party!  Shortly thereafter he got into buoy racing on a Hobie 33 monohull, and then started skippering his own Hobie Cat 18 after inheriting a fixer upper from a departing student.  He has rarely stepped aboard a half cat since experiencing the beauty of the Polynesian solution to boat stability.  After moving to New York in 2002, Ben crewed on a Corsair 28 for a couple seasons, and then bought his own Weta 14 trimaran after the skipper bought two for his kids.  Ben learned a lot in this three-boat one-design fleet, and has sadly gotten way out of practice since moving to Virginia in 2012.