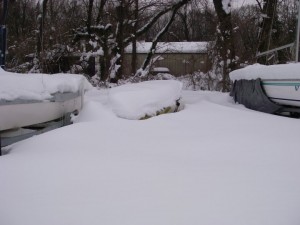 Photo by Cheryl Taylor
Per Joe Warren's Sunday night report, the marina roads are not plowed and snow has blown into 3′ drifts in places. Many Lightings were covered in heavy, wet snow, putting stress on their covers. Skippers will want to check on their boats this week, but at the moment there is a problem entering the marina — huge piles of snow from the plowing on the GW Parkway are blocking the entrance. Here is Joe's report:
Doug and I did go to the marina. Nothing was plowed so we parked in the turn-in lane in front of the marina entrance. Walked through drifts that were over 3 feet in places–worthy of some pictures. The trail had become a cross-country skiing path.
Good News–none of the covers we checked were torn although several under severe stress. We cleared snow and ice off all six covers (David; Jeff; John; Laurie; Rick; Marian) and the one near John's boat in K-20. It has a dark green hull; don't know who owns it.
A word of warning–the entrance to marina off the parkway is closed due to a wall of snow piled up by plows. And, no plowing of the road inside the marina.
Joe Warren
We don't yet know the impact of "Round 2" (Tuesday afternoon through Wednesday night), but it did drop another 10 inches of snow and then whirled it around in 20 MPH winds with gusts above 40. The first person to make it to the marina today — please send pictures! Per Brian Pavlik, as of Thursday morning the entrance to the marina is cleared, but there is no place to park. Plowing is scheduled for today (Friday).