For the last several weeks I have been trying out/building/creating a new way for PRSA to host images and videos. It is called Zest Factor (http://www.zestfactor.com) and is still very much a work in progress. However, its at a stage I need to start seeing if it all works.  I have uploaded and set up 3 play lists of images to share, including the pics Erich Hesse took on 09/20 FS#1. Also pics of Nabeels boat after the T-bone, and Pats boat after the capsize. Enjoy. 
 Links and pics after the break:
When you get to the Play List sites,you can click the picture in the player to get an enlarged view. Look to the right of the player for the "Play Next" link that will take you through all the pictures one at a time, or scroll down the thumbnails to choose an image to look at.  If you see a shot you would like, you can right click on it and save it to your hard drive (for personal use only), or shoot me an email for the full size version. Please let me know if you have any issues viewing any of the images. Feel free to poke around and look at the other pics and videos I have uploaded. Also, feel free to sign up for your own upload account, its free and pretty easy too.
First, we  have a series of shots taken the day we rescued Pats boat from its certain fate as a Belle Haven Marina garbage scow. Instead she lives to race another day: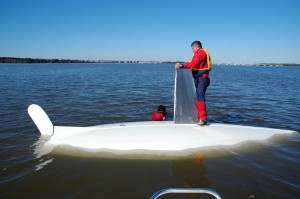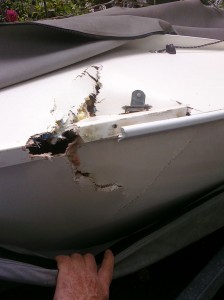 Next up, a few shots of Nabeels boat after getting T-boned last summer.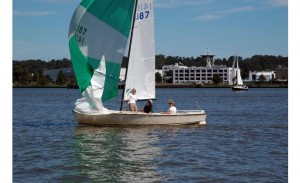 And last, a bunch that Erich Hesse took while using my camera on the first Fall Series day back in September: