Gray day with a soft rain and a southwest wind in the 10-15 mph  range.    Air and water temperature both around 41.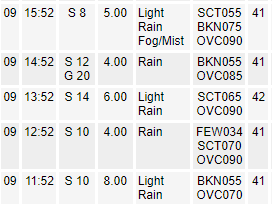 John Van Voorhis and Jim Graham ran the races.
Day's Results
LaserFrostbite2122_6  (races 26-28, January 9)
Thoughts from Farley —
Sunday was an interesting day on the river.  The front mostly came in as expected and the wind built throughout the 3 races.  It was a little different though because while the wind built, it continued to be mostly a southerly.  The wind did generate some waves that were definitely surfable and it was still kind of puffy.  Each race the wind built and started around 10 and was definitely gusting above 20 by the last race.  Oh and it was raining the whole time.  A huge thanks to Jim and John for doing race committee on a nasty day and putting a triangle mark to give us olympic courses!
For myself, I was struggling a bit with my first day out on the laser with high wind in basically 2 years (last year was decidedly not windy for the days I sailed).  The first race I started near the pin and that did not work too well for me since the course was starboard tack and boat favored (I was running late and did not check anything).  I did have some fun downwind tactics in the first race with Ethan where I was able to use the waves and wind to pass him on the inside right before rounding the leeward mark.  The second race the wind had picked up a little more and I was starting to get overpowered.  I snugged up my vang, outhaul, and cunningham to depower and stopped sheeting in quite as much.  I got a little lucky and passed some people that capsized in that race.  Some people went in for the last race.  In the last race, it was getting windy.  This was my "bad" race.  I got stuck in irons 2 times during tacks and capsized 3 times during the race and was generally exhausted by the end (and glad it was the last race).  For the stuck in irons, I did not think my vang was on too hard but I let it off and got the boat moving again before resetting.
All in all it was still a fun day but definitely harder than I was ready for!
So far this season, 30 boats have sailed and 15 have sailed half or more.  Farley is learding the qualifiers, but Steen is way out front among the non-qualifiers and is likely to reach the quali fying threshold.
Cumulative Results Through #6