This in from Keith Strasser: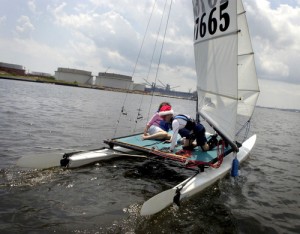 For the past three years a PRSA member, found a way to promote our sport and help others. attached here are the two flyers from this year and below is a cut out from the write up in the Baltimore Sun. Every event each year all sailors are invited. It started as a Hobie Cat ride but that is not set in stone. If you search our PRSA Yahoo Group message you can find the PDF on the 1st year and 2nd year just for reference.
Volunteers for Santa Claus Anonymous offered people Hobie Catamaran rides around the Inner Harbor on Saturday in exchange for donations to its third annual "Santa Sails" fundraiser.
The idea for the event grew out of a dare.
Three years ago, Keith Strasser of Frederick challenged SCA's treasurer August "Bud" Boblitz to ride a catamaran. The Pasadena resident agreed to do it, but only if his friends and family pledged $1,000 toward Santa Claus Anonymous.
This was no simple feat. Boblitz doesn't swim, and catamarans can reach a top speed of one-and-a-half times the wind speed – 8 knots Saturday, or roughly 10 mph, Strasser said. (The Inner Harbor speed limit is 6 knots, he added.)
As Strasser explained, sailing a catamaran is "the scariest roller coaster ride you've ever been on, with no seats, no seat belts and no cup holders."
But Boblitz persevered, and the annual fundraising tradition developed. "It's not for us," he said. "It's for the children."
The story published in the Baltimore Sun is here:
http://www.baltimoresun.com/news/maryland/bal-md.santa02aug02,0,5085462.story
You can also see a TV clip here on the event:
ABC Channel 2 video clip
http://www.abc2news.com/content/gmm/story/Santa-is-Back-in-Town/Rxqw2Kvze0-N0c7x2VDyjw.cspx